Finally, A First Aid A Man Can Be Proud To Wear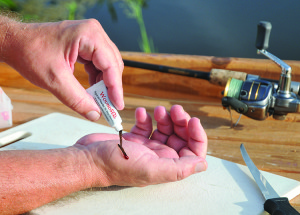 For the avid outdoorsman (hunter/fisherman), active hiker and recreational vehicle enthusiast who pursue their passion many miles away from home there is WoundSeal, the only first aid product that stops bleeding cuts in seconds through the creation of an instant, durable and waterproof scab.
When in the great outdoors, where knives/ tools, fishing hooks, axes and nature's sharp edges are an everyday occurrence, accidents happen that produce cuts or lacerations. When it happens, many sportsmen don't seek first aid because:
1) they don't want to stop what they love to do
2) they don't want to leave their post (hunting/fishing)
3) traditional first aid products – gauze, tape, bandages – often fail to stop bleeding quickly
4) most aids get wet or fall off from activity to expose the wound
That's why WoundSeal was developed. With more than 4 million applications sold the topical powder in WoundSeal binds with the wound's own blood to create an instant, durable and waterproof seal/scab. As pressure is applied to the powder, the natural glue-like nature of drying blood adheres the seal to the wound and surrounding skin.
"We see hundreds of hunters, fishermen and active sportsmen every year because they didn't care for their wound when they were away from home," states Louis M. Guzzi, MD, a critical care physician in Orlando. "Through my years of clinical experience with WoundSeal, I know that the powder could have stopped the bleeding in seconds, created a durable barrier and allowed the person to get back to their activity without any disruption."
For outdoor enthusiasts like Jim Crawford, an avid hunter and fisherman in both Alaska and Florida, the product provides yet another tool to use when miles away from home. Crawford also is the owner of Fishmasters Inn in Elfin Cove, Alaska.
He says, "Let's face it, if I'm deep in the woods or miles offshore in a boat, I'm not going to turn around and come back because of a bloody wound. Nor would I put a bandage on because it would just fall right off when it gets wet. That's why I include a packet of WoundSeal when I pack my gear.
"With its instantaneous, waterproof scab and power to stop bleeding, WoundSeal is definitely survival gear made for a man. While my mom said to never rub dirt in a wound, this powder – which looks like dirt – works like magic when I apply it to a bleeding wound. This is a tough product that works anytime, anywhere in the rugged outdoors. We'll never be without it again."