WoundSeal + Applicator
Bloody wounds can strike anywhere on your body. Sometimes it's hard to reach and place traditional WoundSeal® when the cut is on your back, forehead or leg.  And if you ask a friend or family member to put the powder on your bloody wound, they may be apprehensive in touching it.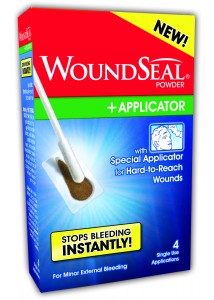 That's why we created WoundSeal + Applicator… the same great powder that stops bleeding instantly when you or another person use the disposable applicator to apply it straight on the wound.
A proven advancement over traditional first aid products, WoundSeal's powder technology combines a hydrophilic polymer and potassium ferrate to stop bleeding in seconds by creating an instant scab (or seal) when combined with the wound's own blood. The instant scab seals the wound, which stops the bleeding and provides a barrier over and around the wound.
Click HERE for directions for Use.
The topical powder has passed all FDA required safety tests and has been the subject of numerous clinical studies – in which all concluded that the powder effectively stopped bleeding.
WoundSeal®+ Applicator is not sold in stores. To purchase WoundSeal® + Applicator, you can: 1) order online or 2) Have this item available in your local store by giving these Distributor Item #'s to the pharmacist: Cardinal – 4585733 / McKesson – 1199082 or Amerisource Bergen: 186-647.